Are you an unemployed college graduate? Site Build It! can help you.
A recent data from the US Department of Labor shows that about 53.6% of bachelor's degree holders under the age of 25 last year were jobless or underemployed, the highest in a decade.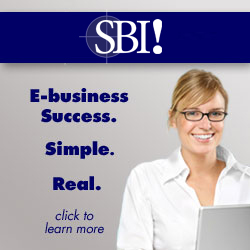 Yes, one in two college grads cannot find jobs, or have to end up working dead-end, minimum-wage jobs like barista, retail clerk, receptionist, or waiters and waitresses.
This is shocking, heart-breaking and down outright scary. This is particularly disturbing because these are our best and brightest young people; talented and educated.
As a result, many of these graduates have to continue living with their parents, continue to depend on their parents' health insurance, and continue to have that hopeless sense of non-fulfillment.
Add on top of that the crushing burden of student loans and credit card debts.
2012 college seniors are expressing all kinds of emotions ranging from fear, anxiety, confusion and hopelessness.  And the end of this Great Recession is nowhere in sight.
What does all that mean for you, especially if you're a recent college graduate or you're still college?
It simply means you have to make a decision … and fast. You can either accept to be one of those unemployed or under-employed number, or you can choose to take the bull by the horn and start your own business.
That's where Site Build It! (or SBI for short) comes in
SBI is a self-taught e-business building course that includes clear step-by-step instructions and all the tools you need not just to learn, but to actually build a profitable, ever-growing business.
Yes, Course AND all the Tools you need.
Students start with nothing, proceed through the course to build and market Top 1-3% websites that work and make money.
You don't have to take my words for it, just check out for yourself testimonials from real SBIers
You see, you never really "graduate" with SBI, since it is much more than just a course. You will discover the depth and richness of an environment of information, tools, expert help and supportive community that takes you as far as you want to go in your online business. There are no limits to what you can achieve in the months to come, including financial peace of mind in these uncertain times.
SBI package comes with a wide range of tools and software to help you build a successful online business every step of the way. Some of them include:
Brainstorming and comprehensive market research
domain name registration
web site hosting
magnificent point-and-click webpage creation
content management
blogging
traffic stats
search engine optimization
auto-responders
form builder
graphic manager
customizable templates
sitemaps
RSS feeds
web mail
newsletter management
And many, many more! Including their one-of-a-kind customer support system. Many of these tools and technology work in the background; completely automated. You don't have to be a techie to use them; just follow the simple, straightforward instructions and focus on your content creation, you will have all the technical details working for you.
Regardless of your major in college, Site Build It! will teach you how to convert your skills, talent and knowledge into business with potential cash flow.
So go ahead and take the step to remove yourself from the jobless graduate statistics. Take the SBI home for a Risk-Free Test Drive and see where it takes you.
You very well might develop the most important new skill needed to survive-then-thrive in today's new economic reality.
If you still have Questions about SBI, please Click Here to have friendly SBI experts answer your questions.

___________________________________________________
Related Posts:
Entrepreneurship and Small Business Ownership
Online Hospitality Management Degree
___________________________________________________